Franklyn boutique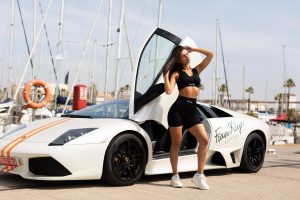 Look tasty? Food cooked by robots…
What if I´ll tell you that all this yummy food was cooked by robots? Sounds like future… But it is real! Guys from very innovative and courageos project in Barcelona made it real.
When I was in their office for the fisrt time, I was shocked. It doesn´t look like real kitchen it is more about IT technologies.
Shooting outside is unpredictable sometimes
There are always some risks with outside shootings. Even totaly planned shooting can be out of control)
– because of the weather
– there could be problems with reaching location (on the roads o smth)
– the location can be changed. I mean not that one that you expexted.
When we arrived to this place It was starting to rain. Then rain stopped, But i Saw that the rye field was reaped ?
But anyway It was a cool easy and very beautiful Shooting with
⠀
Model @marilawanders ?
MUAH @namarafechu
Assistant @silvia.tayan.fotografia
Quarantine? Again, oh no
New ristrictions in Barcelona. We are recomended to stay at home. Cancelled events, closed swimming pools and gyms…
But yesturday we didn't know about this, so yesturday was a perfect day with amazing girls ? @dinatop thanks for photo!) @pustefix @namarafechu best travel team ever!
I have a flight to Russia in few days
"I have a flight to Russia in few days, do we have time to shoot this idea with gllitter and the sea?" – sure! Let's meet at 6 am on the beach! There is no time to find outfits, just take what you have! – White body is ok? – perfect! I Will take one more dress.
⠀
And here is. Magic morning, Summer vibes, soft sun, waves. Tasya is a stretch coach, so I wanted to show her perfect body But in my style. Unit her with nature, elements. To show you this mood! Did I? )) And which one is better bw or color finally?
There should be long read
But Instagram didn't allow me to post it. I don't know why ?
So here are just beautiful Mary Lee @marylee.model
Difference between fashion photo and normal
Do you know what is the difference between fashion photo and normal? – posing!))) And clothes for sure! Fashion Photography is about clothes, ideas and trends. So is that posing "fashion" enough? ?
Model @meowmyaso
Photographer @lerapanarina
Hat Jaquemus
Dress Zara
To be another person
To be another person just for one day) It is interesting)
⠀
This is a story about me coming for hair styling and getting new hair cut finally))
⠀
When i Saw me in the mirror It was a surprise. There were a woman beautiful and cute, But not me))) very interesting experience! Thanks Nastya, you are the best! ? @namarafechu
Amazing ginger
Amazing ginger Jenya @meowmyaso ?
I think all photographers are in love with ginger people. So do I!)))) I also wanted to color my hair into red one, but no hair stylist told me: let's do It) so maybe they know better) ok, Pink is also good.
My language is visual
I have a lot of photos I want to share. But some days I just don't wanna tell something… Because I am photographer, not a writter. My language is visual, my photos they are my letters. So sorry, sometimes I'm just gonna post them ?
⠀
Model amazing superstar, my muse ? @marylee.model